Ice was the king of the young people of Erzurum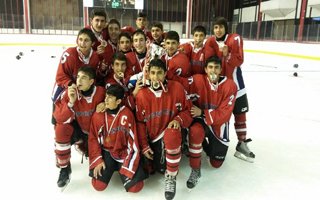 Ice Hockey Federation of Turkey in Ankara organized by the Young Men's Ice Hockey Play-Offs, who defeated their opponents in Erzurum Turkey Champion was Gençlikspor. With the participation of eight teams and seven weeks of the 2013-2014 season, the Junior League Ice Hockey Federation Turkey has been completed. League fight the purification of the Play-Offs played.
17 to 18 May 2014 in Ankara, which took place play-off competitions Erzurum Gençlikspor, Ankara Metropolitan, Kocaeli Metropolitan and the Bosphorus Patenaj Sports Club teams struggled. Erzurum Gençlikspor American Coach Mc Club. Coaches with Keith Adams Catering Çintimar while managing to ice hockey rink, wrote history. Turkey Gençlikspor Champion, was given the honor of giant outpace its rivals.
Games played on May 17 in the first match was played between Erzurum Gençlikspor'l Patenaj the Bosphorus. Erzurum Gençlikspor match 5-0, and won. ENT BB with Kağıtsp played between Ankara and contentious 3-2 and won the game in extra ENT paperless. The 3rd place match played on Sunday, defeating the Bosphorus Patenaj Sports Club 5-4 BB Ankara was the bronze medal.
ERZURUM, Istanbul was the 5'LE
In the final match in Ankara and Erzurum ENT Kağıtsp Club Gençlikspor encountered. Erzurum Gençlikspor Club Challenge winning 5-1, TBHF Youth League was the champion of Turkey. ENT Kağıtsp losing in the final of the Club took the silver medal.
Young Men's Ice Hockey Finals Turkey at the awards ceremony held after the trophies to the winning team and medals given, was evident in the Play-Off's. BB Most Valuable Player award from Ankara, Mehmet Cherry, while the best goalkeeper award went to Ali Berk from Capital team again. Kocaeli Metropolitan Municipality is from Kağıtspor Doru when selecting the best defender, Best Striker Player's Club award from Erzurum Gençlikspor Kavaz M. Sefa was given. Erzurum Deputy Provincial Director of Youth Services and Sports Mamdouh Ceyhan, ice hockey player and coach of champions, celebrating the victory proud of themselves, he said. Ceyhan, "This championship trophy congratulate our young athletes that our province" dedi.büyük success signatories to champion the strange indifference of Erzurum have shown.
05/20/2014 20:00:00
| | | | | |
| --- | --- | --- | --- | --- |
| | | | | |