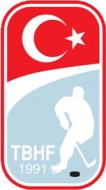 Gençlik Spor won first round of Black Sea Hockey League
Turkish team from Erzurum won also U14 tournament

Turkish Super Lig team Erzurum Gençlik Spor won all four games against Georgia National Team for the first round of Black Sea Hockey League, played in Erzurum. Final scores were: 6-0, 10-4, 2-1, and 10-6. Armenia Federation was invited as observer and should play in second round of competition, scheduled for March 23-25, again in Erzurum. In U14 competition, home team opened tournament with a loss against Ankara (2-1), but then set a perfect record of 5 victories and won Cup, beating Georgia (8-2), Kocaeli BB (8-0), Istanbul (10-0) and ankara (3-2) in the final

"I think the Black Sea Hockey League was a big success - said Erzurum American Coach Keith McAdams - We had good crowds for senior and youth games. I believe the future of the Black Sea League is good. The experience was great for Gençlik Spor senior players, we were able to play some of our younger players. It was a great experience for Ankara, Koceli, Istanbul and Erzurum to play international games. Both the Georgian Senior Club and U14 team played well. We received very positive feedback from the fans"